Are you interested in hiring a company for the design and development of Casino Slot Games? If the answer is yes, you have come to the right place. At Wizards, today we take immense pride in introducing our latest creation, Jungle Jackpot Frenzy.
Step into the world of slot game development, where pixels meet jackpots, and creativity blends with chance. In this thrilling realm, we'll unveil the secrets behind crafting captivating slot experiences that keep players spinning the reels. So, buckle up, and let's embark on a journey through the art and science of slot game creation!
What is Jungle Jackpot Frenzy?
Jungle Jackpot Frenzy is a virtual adaptation of the classic jackpot game. With fascinating graphics and thrilling audio effects, it seamlessly merges the allure and suspense of the traditional jackpot experience with the convenience of a mobile game set in the heart of the jungle.
This offers players from all corners of the globe the chance to indulge in this classic anytime, anywhere, while maintaining the game's excitement and emotional impact. Your project has the potential to be our next triumph. Contact our specialists and sculpt your own slot game.
How does an online jackpot game work?
Online jackpot games are a form of gambling where players place bets and have the chance to win a substantial prize, known as the jackpot. The jackpot can either be fixed or progressive, with the latter increasing as more players wager on the game.
Players must meet specific winning conditions, which vary depending on the game, to trigger the jackpot and claim the prize. These games use random number generators to ensure fairness, and while winning the jackpot is rare and largely based on luck, it can result in significant payouts.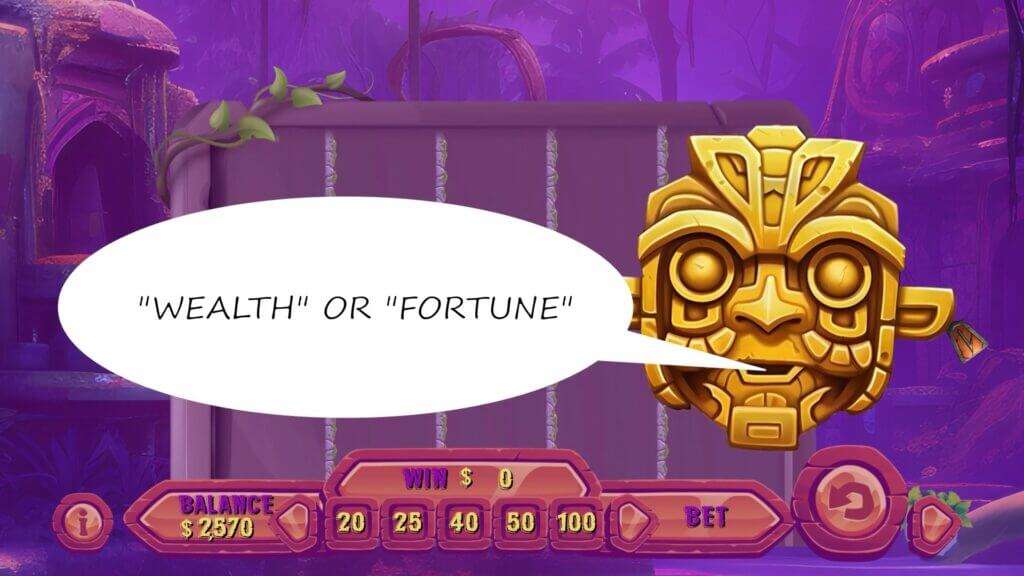 Creating an Online Jackpot Game: Essential Requirements
To embark on the development journey of an online jackpot game akin to Jungle Jackpot Frenzy there are fundamental backend and technology prerequisites imperative for ensuring viability. These essential components include:
React Native: Opt for a versatile cross-platform development framework, such as React Native. This potent JavaScript-based framework empowers developers to craft mobile applications with a unified codebase. Leverage React Native's capabilities to fashion high-performance apps using familiar web technologies.
Database System Selection: The choice of your database system should align with the specific project requirements. You may consider SQL or MongoDB. SQL offers a structured, relational database, while MongoDB provides flexibility through its NoSQL approach. The selection hinges on the intricacies of your game's data management needs.
Server-Side Framework: Harness the prowess of Nest, an adept framework designed to facilitate the construction of efficient and scalable server-side applications. Nest empowers game developers with tools to ensure seamless backend functionality.
Real-Time Capabilities with Firebase: Integrate Firebase into your project arsenal. Firebase boasts a robust suite of features, including a real-time database, authentication, and user management services. These services are indispensable for a dynamic and interactive gaming experience.
Real-Time Multiplayer Support: Elevate your game's multiplayer experience with Socket.io. This potent tool is a boon for game developers, enabling the creation of real-time multiplayer games that operate seamlessly across diverse devices. It adds a layer of excitement and engagement to your online jackpot game.
Cloud Deployment via Digital Ocean: For game-changing cloud deployment, turn to Digital Ocean. This platform provides a comprehensive suite of resources and services that empower developers to create, deploy, and manage games efficiently in the cloud. Digital Ocean's offerings are tailored to streamline your development process.
Container Orchestration: Streamline the deployment, management, and scaling of your game applications with Kubernetes (k8s). This powerful container orchestration platform simplifies the complexities of orchestrating containers, ensuring the smooth operation of your online jackpot game.
Embarking on Slot Game Development
Having provided you with a concise overview of what slot games are and how they function, it's time to delve into the intricate process of bringing these games to life. Slot game development entails the creation of software for online slot machine games, effectively transposing the traditional slot machine experience onto digital gaming platforms.
The development of a slot machine game comprises three essential components:
Slot Machine Art: This encompasses the artistic dimension of the game, encompassing the design of the game itself, its art style, the crafting of unique symbols, and the thematic elements that define the game's visual identity.
Slot Machine Software Development: At the heart of the process lies the coding of the game's logic, the utilization of game engine technology, and the creation of platform-specific solutions, enabling the game to run seamlessly across a variety of devices and operating systems.
Slot Mechanics: This phase revolves around the game's mechanics, including level development, the incorporation of bonus prizes, and the creation of an intuitive user interface to ensure a smooth and engaging player experience.
To bring the game to life, we assembled a well-rounded team comprising a back-end developer, front-end developer, a skilled UI/UX designer, a talented artist, a QA engineer, and a dedicated project manager.
Our development journey for 'Jungle Jackpot Frenzy' involved several key technologies and technical requirements, including database options such as SQL or MongoDB, the use of Nest for backend development, Firebase for real-time functionality, Socket.io for communication, and hosting on Digital Ocean with k8s for optimal performance. As a result, we have created a game with realistic animations and dynamic graphics with all the features of a slot machine.
Jungle Jackpot Frenzy Features:
Lush Jungle Theme:
Game design featuring jungle landscapes, waterfalls, and exotic wildlife.
Themed icons include jungle animals like tigers, parrots, and monkeys.
Slot Machine Features:
Traditional reels with multiple pay lines.
Wild and scatter symbols to increase winning chances.
Jackpots and Prizes:
Chance to win progressive jackpots and cash prizes.
Clear paytable displaying winning combinations.
Bonus Game:
Jungle-themed bonus round, such as a trek through the jungle in search of hidden treasures.
Stunning Visual Effects and Animations:
Detailed animations on symbols and reels.
Impressive visual effects when special features are activated.
Jungle Music and Sounds:
Immersive soundtrack featuring jungle sounds like bird songs and tiger roars.
Exciting sound effects when winning.
Minimum and Maximum Bets:
Flexible betting options for players of all levels.
Autoplay Functionality:
Option to automatically spin the reels without interruption.
Mobile Device Compatibility:
Available on mobile devices and tablets for on-the-go play.
Responsible Gambling:
Responsible gambling features, such as betting and loss limits.
Leaderboards and Competitions:
Online leaderboards to compete with other players.
Promotions and Bonuses:
Special promotions related to the jungle theme.
Customer Support:
Customer service to address questions and issues
Why Creating a Slot Game is Essential?
Slot games have consistently held the top spot as the most popular casino attraction and the advent of online slot gaming has spurred even greater participation, with players now enjoying these games from the comfort of their smartphones and desktops.
Unlike traditional casino settings, online slot games offer round-the-clock accessibility, allowing enthusiasts to indulge in their favorite pastimes 24/7/365. This accessibility is the main reason for the growing interest in slot machine software development.
Venture into the slot game arena with a viral slot machine game, and you're poised for success! Your slot game has the potential to generate millions in revenue while captivating a vast audience of gamers.
Why is it worth to invest in the development of Slot Games:
For potential buyers interested in entering the world of slot game development, there are several advantageous paths to consider.
From a corporate perspective, companies aiming to venture into slot game development stand to reap numerous rewards. Firstly, they can tap into the immense popularity of slot games by capturing a percentage of the bets.
Additionally, companies can diversify their revenue streams by creating and selling slot machine games to other individuals or businesses. Furthermore, possessing a slot game can significantly enhance brand awareness, as users who engage with your slot game will associate a positive experience with your brand.
Dive into the World of Gaming Excellence with Wizards!
In the dynamic universe of online gaming, creating an immersive gaming experience is an alchemy of imagination and cutting-edge technology. Each pixel, each line of code, is a brushstroke on the canvas of player excitement.
At Wizards, we're not just developers; we're the architects of your gaming vision. Our team of expert developers, visionary designers, and artistic maestros is poised to infuse enchantment into your project. Join forces with us to craft unforgettable, interactive adventures that captivate and thrill. Connect with our wizards today, and let's embark on a journey to redefine gaming excellence together
Other resources